Administrator seeks bigger opportunities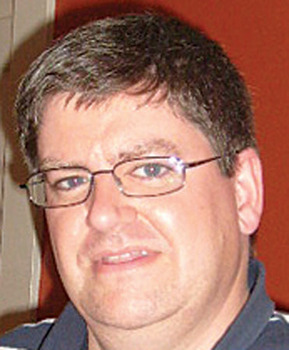 LYNDEBOROUGH – Five years ago, Neal Cass was named the town's first full-time administrator. Last week, he left to take on the same position in nearby Antrim.
About 50 residents turned out Tuesday night to say goodbye, wish him well, and present him with several uniquely Lyndeborough gifts: a Lafayette Artillery Company coffee mug, a Lyndeborough glass bottle, and a chunk of glass slag from the factory that displays most of the colors of glass produced in town between 1866-86.
Town Moderator Walter Holland presented the chunk of glass and praised Cass for some of his innovations: standardizing the budget presentations from department heads and providing a "script" for town meeting sessions, making it easier for him.
Selectmen and office personnel have begun interviewing the 15 candidates for the administrator's job, with plans to make a final decision in less than two weeks. Most of the candidates are local to the New England, Cass said. "The key is finding the right person. The match is important in a small office," where people all work closely together.
Cass said he will return from time to time during the transition to help the new person. A resident of Hancock, Cass took on the Lyndeborough job in June 2003. He had served as a selectman in Hancock for six years, and for five years ran the Hancock Market, which had been in his family for 25 years.
Under Cass' supervision, the town office was modernized, computerized and streamlined, a process which is continuing. "We computerized the assessing and the accounting," Cass said. "We redid the property files." By creating the office of administrator, he added, "they changed the way the town operates," including adding more office hours for the public.
The administrator of a small town gets to do a lot of different things – there is no one to delegate work to. "I really enjoy the variety of the position. It keeps it interesting," Cass said.
He was also the one handed the odd questions that no one else could answer. "That's the part I really like, talking to all of the people," he said. The biggest challenge currently facing the town is the police department, he said, "both determining the administration of the department and providing adequate space."
Changing jobs was a hard decision, he said, but Antrim is closer to Hancock and his son attends the Great Brook Middle School in Antrim. It is also a somewhat bigger town with more challenges. The budget he will oversee is about three times as large as Lyndeborough's because the town has municipal water and sewer systems and a large recreation department. "It was one of those opportunities that come along," he said.
"But I'll miss the people here," Cass said. "I'll miss going to the Village Store to pick up lunch. I tried to do that a couple of times a week." The store, of course, is where one learns all the town news. As a former store owner, he said, "I was familiar with that, and fit right in."