Across city, pockets struggle on through sixth dark day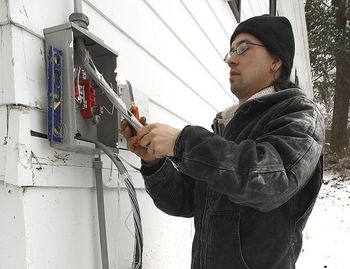 NASHUA – It couldn't get any colder on Frost Drive.
For a sixth straight day on Wednesday, the Seitz family lived with a chill. It wasn't so much the lack of electricity that made them cold; it was that almost every one of their neighbors had power.
An inoperative utility pole and wires on the street kept power knocked out at the Seitz residence and two other homes nearby. While electricity returned to houses on surrounding streets in this neighborhood near Boire Field, the Seitzes could only wonder when they'd feel warm again.
"The first couple of days, there was nothing anyone could do," Matt Seitz said. "But now, everyone else around us is getting it back. I know a great effort is required, but . . ."
As of noon Wednesday, the Seitzes were one of 6,383 Public Service of New Hampshire customers in the city still without power since last Friday, the utility company said. That meant about 16 percent of PSNH's more than 40,000 Nashua customers had nearly reached a week without electricity.
It also meant the Seitzes could no longer take collective relief in the fact that most of those around them also had to tolerate the dark and cold. They now had to watch neighbors turn on their exterior Christmas lights and once again look refreshed after hot showers.
"We're pretty stubborn," Seitz, 23, said of the decision by him and his parents, Jim and Diane, to not seek alternate shelter.
A gas generator powered an electric pellet stove in the family room, keeping pipes in the house from freezing. Water is not hot, but it runs. The family has nonetheless taken showers at friends' houses.
Electricity would end what has now become an annoying "nomadic life," Seitz said.
The Seitzes have a problem unique to the minority of the peak number of 430,000 New Hampshire residents who were knocked off the grid because of the ice storm.
Unlike many residents and businesses who had power restored in clumps because their outages were tied to large sources, people like the Seitzes had a wire loosened from their home.
On their street, wires still drooped to the ground despite repairs having already been conducted. A tree had fallen during the storm and made a mess.
Because PSNH places a priority on restoring power to the largest number of customers first – and then working its way to smaller individual outages – the Seitzes may have to wait beyond the target date the utility company has set for restoration. PSNH expects to restore power to 95 percent of Nashua customers by today, but the Seitzes could fit into that five percentile.
Frost Drive wasn't the only street without light. Bishop Lane, directly across from the Federal Aviation Administration facility on Northeastern Boulevard, was closed because of slouching wires banged out of place by a fallen tree.
Sylvia Smith, at 1 Bishop Lane, figured she'd have power restored by now because "we're number one."
Smith toughed it out the first two days of the outage, but her children finally convinced her to join them at their Weare home. Even though most Weare residents didn't have power for days, her children somehow escaped the outage.
At Smith's home, an old-fashioned, small gas heater kept pipes from freezing. But Smith's fridge is "a mess" and it just got too cold to stay, she said. "It's hard when you don't have" power, Smith said. "You can't do housework or cook."
Initially frustrated, Smith said her grandson Russell Matheson had convinced her that utility crews were working as hard as they could.
Nearby, Colleen Coelho had nothing but positive thoughts about the six-day outage – this despite having a branch crush part of the family van.
"It could be worse," Coelho said.
Dislodged tree branches disconnected the lines to their house. A generator provided some power to the house, and allowed her and her family to use the time without electricity to bond, she said. They play cards and other games at night, and have grown closer.
"It makes you realize we're fortunate with what we have," she said.