About 160,000 still without electricity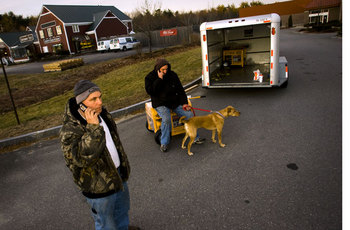 NASHUA – Bill and Wanda Kennerson said the ice storm that knocked power out of their Ridge Road home was the worst they have ever seen.
"The blizzard of '78 was bad, but there was more damage now," Wanda Kennerson said.
"From 1:30 in the morning (on Friday), it was 'crackling, bang, crackling, bang!' There wasn't five minutes that went by when you didn't hear that," she said.
Standing outside their home, and talking over the rattle of a generator that Bill Kennerson bought during the 1998 ice storm, the couple watched as a utility crew up from Maryland worked to restore power to their neighborhood.
"I've been through quite a few ice storms," said Ryan Athey, a 32-year veteran of Baltimore Gas and Electric Co.
But Athey's younger partner, Earl Lattie, said this was the first time he had ever been out of the state.
"It's nice, but cold," he said, shivering.
Thousands of area homes remained without power Sunday night, three days after the storm snapped thick trees like twigs, blew out transformers and dropped power lines across the Northeast.
In Nashua, as of 3 p.m. Sunday, portions of 19 roads remained closed, down from a high of 33. Police urged caution in the area of Manchester Street and the Henri Burque Highway because of a defective traffic light.
Nashua High School South remained open as an emergency shelter. In the Milford area, Heron Pond Elementary School at 80 Heron Pond Road is also still serving as a shelter.
Schools throughout the area, including in Nashua, are closed today.
As of 9:30 p.m. Sunday there were still about 160,000 customers without power, down from the 322,000 customers Friday afternoon, according PSNH spokesman Matt Chagnon. There were 30,000 customers without power in greater Nashua, Chagnon said.
PSNH is still asking customers to prepare for several days without power.
More than 120 additional crews from utilities as far away as Maryland, Ohio and Canada joined PSNH in working to restore power, officials said.
At total of more than 500 line and tree crews were out working Sunday, PSNH said.
Crews from various city departments also have been putting in long days since Friday. Some of the crews were following behind the power company, clearing trees after PSNH handled down wires.
"PSNH is just overwhelmed," said Dave Fredette, city treasurer/tax collector and interim public works director.
"It's taken time to get to these different roads," he said.
"We're trying to get PSNH to work from the list (of closed roads)," Mayor Donnalee Lozeau said. "We've had crews out each day. Their priority is the road closures, from the city's perspective," she said.
Parks and recreation workers have been clearing trees for three days, with more than a dozen workers getting five or six hours of sleep between shifts, said Victor Delisle, a foreman with the department.
"We called the guys in about 11 o'clock Thursday night when the storm started. Within an hour, we were bombarded with 65 tree calls," Delisle said.
Besides working with PSNH, city crews from parks and recreation, public works, fire, police and wastewater all were busy.
"There was great cooperation," Delisle said.
The task, however, seemed monumental.
"I've been here for 22 years. I've seen some storms, but I've never seen anything like this," Delisle said.
Parts of the city "looked like a bomb went off," he said.
Among the hardest hit areas was Indian Rock Road just south of Boire Field Nashua Municipal Airport. Mid-afternoon Sunday, the road remained blocked by fallen wires and trees.
The western portion of Ridge Road was barely passable, with the Baltimore power crews working in several spots.
Twenty-five crews, each consisting of a truck and two workers, made the 400-mile trip to New Hampshire to help restore power, said Athey, of Baltimore Gas and Electric.
"That's crazy," Bill Kennerson said, watching one of the Baltimore crews working on his street.
With a high in the 50s forecast for today, "at least it's going to be a little warm for them," Kennerson said.
"I work construction. I know what it's like being outdoors."
The Kennersons, like many people in the region without power, managed to make do. Bill Kennerson said he remembered he had rabbit-ear antennas stashed in the basement. The antennas were for a small TV he watched while tailgating at New England Patriot games.
The antennas allowed the couple to get two local TV stations.
Also, Kennerson said he cut down two tall oak trees near his home a month ago because he was tired of cleaning acorns and leaves from his gutters. The trees could have done serious damage had they crashed into his house during the ice storm, he said.
And one large tree in his yard managed to fall in a good place – just between a shed and a mock "Green Monster" he built for his kids' Wiffle ball games, Kennerson said.