AARP Voters' Guide: McCain, Obama on retirement security, health care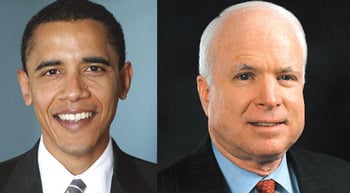 AARP asks major candidates in selected races questions about the issues most important to its members and their families. AARP doesn't edit the candidates' answers. Here's what candidates for president had to say on the issues of retirement security and health care.
Q: What will be your top domestic issue priorities if elected?
John McCain: Among my highest national priorities would be reforming our nation's failing institutions and assuring American prosperity. Essential to this agenda is supporting the housing market, reforming our health-care system, addressing needed reform to our entitlement programs, and enacting needed reforms to ensure we can fund our national priorities, while offering a pro-growth tax code that would promote investment and spur economic growth and job creation.
For too long, Washington has been consumed by a hyper-partisanship that treats every challenge facing us as an opportunity to disparage each other's motives and fight about the next election. My career is replete with examples of the type of bipartisan problem solving that we need to address these great challenges and secure our nation's prosperity.
Barack Obama: My top domestic priorities will be reforming our health-care system to ensure all Americans have affordable, quality health coverage; enacting a bold climate change and energy independence agenda that creates 5 million new green jobs; and ensuring the long-term growth of our economy. I will build consensus for my proposals that reflects my campaign to engage directly with the American people and reject the old politics of Washington which has cared more about special interests than the national interest.
As a result of that failed politics, more Americans lack health insurance than any other period in history, are paying record gas prices and have increasing economic insecurity while corporations are raking in record profits. My presidency will put an end to that failed system.
Q: What options do you support to make saving for retirement easier for American families?
McCain: Automatic payroll deductions for employee IRAs has proven to be an effective approach to encouraging and helping workers save for retirement, and I support them. I know that for many seniors, dividend and capital gains income is critical to a comfortable retirement, which is why I strongly support keeping capital gains and dividend taxes low. I also believe that within the broader context of a comprehensive, bipartisan reform, personal accounts can play a role in improving the retirement security for Americans, particularly young Americans; but these accounts should not be viewed as a standalone mechanism for meeting promised benefits.
Obama: I will strengthen the retirement security of American workers. Currently, 75 million working Americans lack employer-based retirement plans. My retirement security plan will automatically enroll workers in a workplace pension plan. Employers who do not currently offer a retirement plan will be required to enroll their employees in a direct-deposit IRA account that is compatible to existing direct-deposit payroll systems. Employees may opt-out if they choose.
Experts estimate that this program will increase the savings participation rate for low and middle-income workers from its current 15 percent level to around 80 percent. I will also expand the existing Savers Credit to match 50 percent of the first $1,000 of savings for families that earn under $75,000, and I will make the tax credit refundable.
Q: What policies would you support to make health care and health insurance more affordable and accessible for everyone?
McCain: We need to get rising costs under control and give individuals more choices. Health-care choices are amongst the most personal of decisions, and should not be subject to the dictates of Washington. I propose giving individuals a tax credit to help with the purchase of health insurance, allowing Americans to choose the insurance provider that suits them best, including their existing employer provided health plan.
Americans need portable insurance that is there if they retire early, lose a job, or take time off to raise the kids. We must also move away from fee-for-service toward coordinated care that focuses on prevention and paying for quality outcomes. My reforms will also lower Medicare premiums that are increasingly eating into Social Security checks.
Obama: I want to stop talking about the outrage of 47 million uninsured Americans and start actually doing something about it. To do so, we need a president who can bring Democrats and Republicans together, stand up to the drug and insurance industry lobbyists, and create a transparent process so that the American people can participate in the debate. That's how I expanded health care in Illinois, and that's how I'll do it as president.
I am committed to signing a universal health care plan into law by the end of my first term in office. My plan will lower costs $2,500 per year for the typical American family and enable all Americans to buy affordable, quality and portable health insurance coverage.