A star is born: N.H. Film Fest's ninth edition is its biggest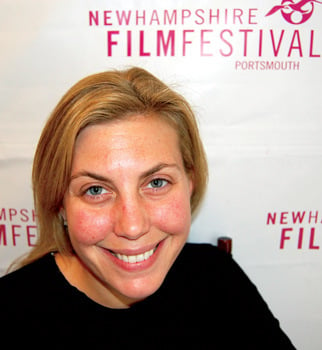 Beginning with a modest $1,000 budget in 2001 and originally known as the New Hampshire Film Expo, the New Hampshire Film Festival has become a vital cultural happening — complete with juried awards, dozens of regional submissions and solid sponsorship support. And it has become one of the must-see events in Portsmouth, enhancing the state's reputation as an under-the-radar mecca for creative talent.
The ninth annual gathering of independent filmmakers, cinema lovers, local sponsors and industry insiders will take place Oct. 15-18 in the Port City.
Executive Director Nicole Gregg said the 2009 edition of the festival — whose budget has grown to $200,000 — will feature a record number of films, culled from more than 700 submissions from across the globe, along with workshops and panels that will focus even more on developing the capabilities of the film and animation industries. Gregg added that the event likely will break attendance records again.  And, in a time of economic stress for arts and cultural organizations, the festival — known as NHFF — has managed to expand its roster of sponsors.
One key to the festival's success, said Gregg is its location. Other more famous and established festivals, such as Sundance, have the ambiance of winter Utah or the Riviera in France, but the New Hampshire festival has Portsmouth during foliage season.
"One of our goals has been to create a festival experience that is uniquely New Hampshire, and even more so Portsmouth,"  Gregg said. "It is the most beautiful time of the year here, and we want them (the out-of-town festival attendees and visitors) to see us in the best possible way they can." 
Its success has helped the NHFF emerge as a growing presence on the festival circuit.
"From a filmmaker and industry point of view, we are helping to inspire artists and producers," she said. The roster of films includes a wide range of local efforts, including "Crooked Lane," which was shot in Portsmouth and produced by Chase Bailey; already-released major documentaries, such as "Food, Inc." (which will be shown on the festival's final might and include a Q&A session with Stonyfield Farm chief executive Gary Hirshberg); and major independent films, such as "Serious Moonlight," which stars Meg Ryan and Timothy Hutton, and is the directorial debut of Cheryl Hines, co-star of the HBO comedy, "Curb Your Enthusiasm." 
Solid business support
Matthew Newton, director of the state's Film and Television Office, said the NHFF "is a fantastic venue to network filmmakers, learn about the art and craft of moviemaking, and see some films that you just can't find at the local cineplex."
Newton said his office has seen a "significant growth" in inquiries from independent filmmakers looking to shoot in the state, and the New Hampshire festival is an avenue to expand that market.
"We've done considerable outreach to those filmmakers by offering up workshops and panel discussions at the film festival, including this year," he said. Previous workshops have included discussions on utilizing the state's low-tax structure and geographical diversity as production incentives and how to develop and nurture filmmaking talent in the state and region.
Marc Dole, founder of the award-winning Hatchling Studios in Portsmouth, knows all about the festival's impact. Dole, whose studio is known best for its animation projects for the Web and in short films, has been involved in seven films, all New Hampshire-produced shorts, that will be shown at the festival.
"Of the 50 short films, 20 are from new Hampshire, which is rare for a festival where you might get one or two locally produced shorts," Dole said. The growth of shorts and smaller features doesn't mean an immediate or even major payoff, but they are often springboards to larger projects.
Dole, whose company is sponsoring one of the nighttime filmmaker parties in downtown Portsmouth, said one of the likely hot topics of discussion will be the recent groundbreaking of a film studio complex in Plymouth, Mass., which could dramatically reshape the filmmaking community throughout New England.
One of the strengths of the NHFF, Gregg said, has been the solid local business support for the festival, which moved to Portsmouth in 2004 from Manchester. It's an aspect of the NHFF that has impressed Newton as well.
"The city of Portsmouth has really rallied behind local filmmaking, and I think it's a natural destination for this type of event," he said.
While there hasn't been a study showing how much the NHFF pumps into the local economy, the NHFF has been embraced locally.
"Our sponsors provide a sense of community and support, and that's what we bring to these filmmakers from out of town," Gregg said. "During the (festival) weekend, you can walk around, see all the out-of-towns guests in restaurants, coffee shops and boutique stores."
One of the major sponsors has been Vital Design (which is owned by Zach Gregg, Nicole's husband, who also serves on NHFF's board of directors), which has donated tens of thousands of dollars in marketing and Web site design since 2004.
"Having the opportunity to provide all of the branding and marketing for the festival has given us a unique showcase and exposure for our talents and services," said Brian DeKoning of Vital Design. Working with NHFF allows Vital to shape the image of what has become one of the premier cultural events in the state."
After buying one of the region's top real estate firms in April, one of the first moves that co-owners George Carlisle and Jeff Mountjoy of Olde Port Properties was to become a sponsor of the festival.
"We felt it was important to pledge our ongoing support, at what is still an early stage in the festival's development and in a particularly tough economic climate," said Carlisle, a lifelong Portsmouth resident whose company is located in downtown district where the NHFF takes place. "It's important for local businesses, especially those in downtown Portsmouth, because it provides a natural venue for us all to showcase our products and services to a well qualified market."
Carlisle said he has always been impressed by and a supporter of the arts scene in Portsmouth, which he believes helps define the city's character — and the festival provides a great attraction for his clients.
"We believe, as time goes on, this festival is going to get bigger and ever more successful. It will be hard to jump on the bandwagon then, and we wanted to associate our name with the festival as soon as we could," he said.