A question for the next president?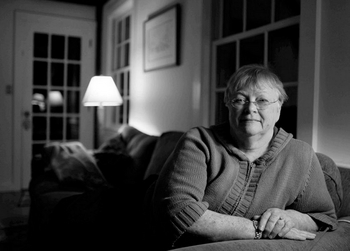 AMHERST – The question was the final one of Tuesday evening's presidential debate in Nashville, Tenn., and Tom Brokaw told John McCain and Barack Obama that "it's from Peggy in Amherst, New Hampshire."
The question – "What don't you know and how will you learn it?" – came via e-mail from Peggy Silva, the writing and literacy coordinator at Souhegan High School.
In a phone interview Wednesday, Silva called it "the kind of question we deal with at Souhegan. We ask students to delve deeply into their learning by asking questions for which there are no easy answers."
Silva's question was chosen by debate moderator Brokaw from tens of thousands submitted in advance of the event. Neither candidate knew the questions Brokaw would be asking.
She said she asked the same question of Bill Clinton in Merrimack in 1991 and the "national press jumped over chairs" to talk to her.
Then, in 2000, she asked McCain the question at Amherst Middle School.
"It was comical because I only attended because of Mike Facques (another Souhegan teacher) who was a very strong McCain supporter," she said.
"I asked McCain and he looked at me and said, 'Huh?' and 'I'll get back to you.' " Later, she said, McCain brushed off Facques to get to her and give her a hug, saying, "You stumped me."
Facques now calls her "Peggy Gump," after "Forrest Gump," the movie character who seems not to know much but knows important truths.
Most interesting to Silva was not the candidates' answers – she called them "non-answers" – it was the responses from students and former students who watched the debate and realized the question came from her.
As soon as her question was asked, she said, "Both my phones were ringing off the hook."
She received more than 40 e-mails and text messages from former students, which "shows the power of the Internet."
On blog entry posted on the SAU 39 Web site Wednesday, Silva wrote that one former student, Owen Davies (class of 1996), called her question "so Souheganesque, I assumed it must be your handiwork. Truly the highlight of the evening."
"So many kids reached out immediately to connect," Silva said. "John McCain doesn't realize the future is now, and kids have very different communications channels than we as adults. He hasn't harnessed that power."
On Wednesday morning, Silva said she was greeted at the school door "by so many students who had watched the debate," which she called "hard watching" for teenagers.
"And since my question was the last question" they watched the entire debate, she said. "That reflects on the school."
Silva was part of the founding of Souhegan High School in 1992, after Amherst left the Milford district. The school's philosophy is based around creativity and questioning.
Besides the feedback she received, there was one other thing made it even more fun for her: Tom Brokaw is a friend of Silva's daughter's father-in-law, who e-mailed Brokaw right away to tell him who asked the final question.
"Please tell her we loved that question," Brokaw e-mailed back to his friend, a former NBC producer, shortly after the debate.
"My two seconds of fame have been fun," Silva said.
>>WHAT THEY SAID<< Here is an edited transcript of the presidential candidates' response to Peggy Silva's question, which was "What don't you know and how will you learn it?"
DEMOCRAT BARACK OBAMA: My wife, Michelle, is there and she could give you a much longer list than I do. And most of the time, I learn it by asking her.
But, look, the nature of the challenges that we're going to face are immense and one of the things that we know about the presidency is that it's never the challenges that you expect. It's the challenges that you don't that end up consuming most of your time.
But here's what I do know. I know that I wouldn't be standing here if it weren't for the fact that this country gave me opportunity. I came from very modest means. I had a single mom and my grandparents raised me and it was because of the help of scholarships and my grandmother scrimping on things that she might have wanted to purchase and my mom, at one point, getting food stamps in order for us to put food on the table.
And the question in this election is: are we going to pass on that same American Dream to the next generation? Over the last eight years, we've seen that dream diminish.
MODERATOR TOM BROKAW: Sen. McCain, you get the last word. Sen. Obama had the opening. You're last up.
REPUBLICAN JOHN MCCAIN: I think what I don't know is what all of us don't know, and that's what's going to happen both here at home and abroad.
The challenges that we face are unprecedented. Americans are hurting tonight in a way they have not in our generation.
There are challenges around the world that are new and different and there will be different – we will be talking about countries sometime in the future that we hardly know where they are on the map, some Americans.
So what I don't know is what the unexpected will be. But I have spent my whole life serving this country. I grew up in a family where my father was gone most of the time because he was at sea and doing our country's business. My mother basically raised our family.
I know what it's like in dark times. I know what it's like to have to fight to keep one's hope going through difficult times. I know what it's like to rely on others for support and courage and love in tough times.