A BID to revitalize Nashua's downtown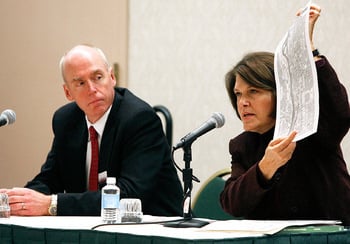 In many respects, the downtowns of New Hampshire's two largest cities have very little in common.
Manchester has tall office buildings, nightclubs, a civic arena and a minor league baseball team. Nashua is better known for quaint shops and gourmet restaurants.
But an effort in Nashua to model the 13-year-old move that revitalized Manchester's downtown has lots of folks talking, particularly as it moves one stage closer to reality.
The Business Improvement District, a plan to impose an extra tax on downtown property owners to pay for services like marketing, upkeep and security, was the topic of discussion at a morning meeting last month as part of Greater Nashua Chamber of Commerce Citizens Bank Fall Breakfast Series.
The two-person panel was made up of Terry Williams, board chairman of downtown advocacy organization Great American Downtown and publisher of The Telegraph, and Stephanie Lewry, executive director of GAD's Manchester equivalent, an organization called Intown Manchester.
The BID was proposed by Great American Downtown to replace the organization's current funding structure, which relies mostly on donations and fund-raisers. The organization promotes downtown businesses and hosts events like the Holiday Winter Stroll but would like to take on bigger projects and expand marketing and downtown improvement efforts.
"It's an opportunity to do more than perhaps what the city could afford," Williams said. "Not only can it lead change and improvements, but it can add to what the city is already doing in that district."
The plan is controversial. A new tax is always a tough sell, particularly in tough economic times. It wouldn't allow downtown property owners to opt out, even if they couldn't afford it. And some downtown property owners question whether the services will be worth the money spent.
The decision is now in the hands of a seven-member committee appointed by Mayor Donnalee Lozeau, which will study whether there's a need for a BID in Nashua. If the answer is yes, they will determine what services the money will provide and set an annual budget. The process is expected to take at least several months.
Growing concept
Depending on the physical boundaries of the district, Williams said the tax rate for BID could be up to 70 cents or 80 cents per $1,000 of assessed valuation. That's means the owner of a $2 million property downtown would pay an extra $1,400 to $1,600 per year.
Manchester's rate is 36 cent per $1,000, but the district is bigger.
Lewry, the Intown director, said Manchester also launched the BID in tough economic times — planning started right after three major downtown banks failed in the early 1990s. The downtown was so run down that there were boarded up buildings on Elm Street, the town's main street, she said.
"Manchester was in a huge pickle, and I bet if we hadn't gotten so desperate we wouldn't have started a BID," Lewry said.
Since then, Manchester's Intown organization has helped revitalize the Millyard and rundown neighborhoods and was instrumental in attracting the Verizon Wireless Arena, Lewry said. The organization also spends a significant portion of its money on city maintenance, like street sweeping, snow removal and landscaping, although that's not quite the intention in Nashua, which has a parks department with more resources.
GAD surveyed business owners in Nashua to find out what their spending priorities would be under a BID, and the No. 1 answer was marketing. After that, there was an even split between public safety and beautification of the city.
The concept of a BID is growing nationwide and internationally. About 400 exist worldwide. – ASHLEY SMITH/THE TELEGRAPH