Cook on Concord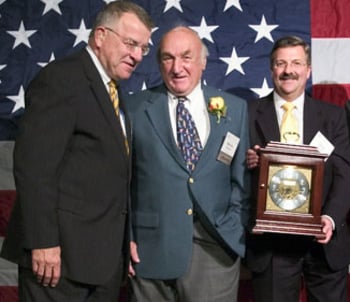 You will be reading this either shortly before the 2004 election or shortly thereafter. Hopefully, someone will have emerged as the clear victor in the presidential election. Whether a Kerry or Bush proponent, each voter knows the horror of a virtual tie from the experience in 2000.
Elections are not perfect, but clearly they are designed to find out which candidate voters prefer, and to the extent that there is doubt cast on that process and results, the entire democratic process suffers.
As a former member of the state Ballot Law Commission, I know the strange results of recounts, when every possible permutation of voting is evidenced on paper ballots. People vote a straight ticket thinking they are confirming their registration in one party or the other, mark both Republican and Democratic candidates for the same office, negating both, draw circles around candidates' names instead of checking the boxes, vote for more candidates than are allowed for given offices, negating their votes, and vote straight tickets and then indicate candidates of another party.
For most of these, there are clear rules on whether votes count or do not count, and for what candidate they count in the event of inconsistency. However, the confusion that even straightforward and clear ballots present to some voters are a mystery to those recounting them.
Another anomaly in elections is how many whimsical write-in votes there are for such notable political figures as "Mickey Mouse," "Donald Duck," "Joe DiMaggio," etc.
Hopefully, such activities will not result in too much confusion or obscure results, as democracy requires finality in elections. May it be over definitively.
*****
John Crosier, for many years head of the Business & Industry Association of New Hampshire, is retiring in December.
The BIA has prospered under his leadership, although the change in the nature of New Hampshire business has been reflected in the membership and activities of the association. The BIA is seeking a new president. The future of the business community in New Hampshire, the BIA's influence on the legislative process as key spokesman for business and its role in helping to fashion sensible solutions while presenting the need to keep a good business environment will all be a challenge to Crosier's successor.
Crosier was a responsible leader. He did not just mouth opposition to every possible solution that involved revenue, but fought to create a balanced and reasonable system. This got him into trouble with some knee-jerk political factions as well as with some segments of business, especially those that have moved to New Hampshire thinking they have some sort of a social contract with the state that involves never having any change in the tax structure.
Working with the six-year Shaheen administration, Crosier sought to keep the interests of business clearly protected while working out a consensus to bring some finality to the tax and revenue issues raised by the Claremont decisions, among other things.
While this was not successful, Crosier deserves great credit for being a player, and any criticism he received afterwards was misguided and misplaced.
New Hampshire business will be well served if a successor to John Crosier can be found with his talent, dedication and perspective.
John Crosier deserves the thanks not only of business interests in New Hampshire, but of the state as a whole.
At a dinner held Oct. 20, Crosier was honored by the BIA, as was longtime Concord attorney Malcolm McLane, one of the statesmen of the New Hampshire Bar and a member of a notable New Hampshire legal family, that of his father, "Judge" John R. McLane Sr., his brother, the late John R. McLane Jr., and his daughter, Ann McLane Custer.
McLane has practiced law at Orr and Reno in Concord for his career, was a member of the Executive Council and ran as an independent candidate against Meldrim Thomson for governor in 1972. While many voted for him, his candidacy may in fact have elected Thomson, but the principled and enlightened campaign that McLane ran was a statement for what was right.
McLane's wife Susan, a longtime state senator from Concord, has been his partner in doing good and standing for what she believed. Now suffering the challenges of Alzheimer's disease, her journey has been recounted in a book, "The Last Dance: Facing Alzheimer's with Love & Laughter," recently written by her daughter, attorney Ann Custer, along with her mother and family.
It promises to be poignant reading as well as memorable.
Brad Cook is a partner in the Manchester law firm of Sheehan Phinney Bass + Green and heads its government relations and estate planning groups.