9/11 emergency service workers honored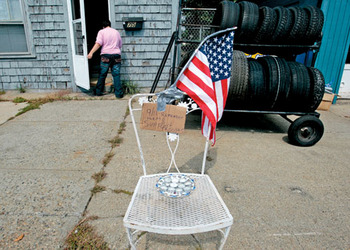 In several places throughout the region, organizations and individuals honored those who lost their lives on 9/11.
Brandy Richardson created a 9/11 tribute outside her Broad Street, Nashua, home for the seventh anniversary of the attacks. She said after seeing a fire truck and thinking of the firefighters who lost their lives that day, "something just clicked." Holding a handful of candles is a plate with the Lord's Prayer written on it.
Barb Deraleau listened to Gary Williams of the Royal Rangers speak at an unveiling of a new billboard with her 2-year-old son Elijah resting in her arms. The Rangers are a Christian scouts organization who, on Thursday, honored Milford's emergency services workers.
Meanwhile, Hudson Police Chief Richard Gendron and Hudson Fire Chief Shawn Murray saluted a wreath in Hudson's Library Park in commemoration of the lives lost on 9/11. The ceremony including the national anthem, a firing squad and taps, lasted more than 10 minutes.