7-inch snowfall inconveniences some in Nashua area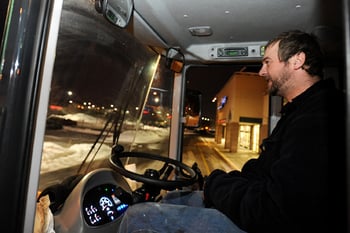 NASHUA – As snow continued to pile up around the region, slowing traffic and canceling plans, Dennis Webster was fairly nonchalant.
"It's typical for winter," Webster shrugged as he shoveled snow in front of the Masonic Temple on Main Street in Nashua.
Sunday's snowfall dropped as much as 6-1/2-7 inches in the first round, with a second round piling up as much as a few more inches overnight, according to the National Weather Service. Emergency services around the Nashua area reported no serious problems, but there were multiple minor accidents in Nashua, according to the city's fire department.
Much to the disappointment of event organizers, the storm caused the cancellation of Martin Luther King Jr. tributes in Milford and Wilton.
The Souhegan Valley Interfaith Council had planned a tribute at the Methodist Church at 3 p.m. in Milford. The event was canceled around 11 a.m., though, due to slippery roads, according to John Bigl, noting one of the speakers had an hour drive to get to Milford.
"You just can't control the weather," Bigl said.
The First Unitarian Congregational Society in Wilton Center was to hold a service dedicated to King and the inauguration of America's first African American President, Barack Obama on Sunday morning but that was also canceled.
Though the snow may have left some disappointed, Shane Meltzer, of Greenville, said he was happy to see the white fluffy stuff fly.
He said he likes snowball fights, snowboarding and building snow forts.
"I think it's awesome," Meltzer said. "I love it."
Meltzer opined about snow as he and seven friends, all twentysomethings, were leaving the Red Arrow Diner in Milford.
His friend Tim Cackett wasn't so thrilled with the storm. Cackett, of Milford, says he doesn't snowboard and hates to shovel. Snow makes finding a parking spot on the Oval more difficult, he said.
"Snow is miserable," Cackett said.
Jennifer Olsson, of Nashua, who was outside Peddler's Daughter in Nashua smoking a cigarette, said she took it slow on a drive to Manchester. During her trip, another motorist gave her a bit of a scare. Olsson said another motorist sped by her truck and then spun out 360 degrees and started bouncing between snow banks like a pinball.
"I hate snow," Olsson said. "I feel we are all from New England and need to learn how to drive."
Workers from Michael Timothy's, Surf Restaurant and Buckley's Great Steaks said the snow didn't prevent them from enjoying a employee appreciation party at noon at Surf.
Chef Steve Norducci said he actually enjoyed driving around because he has a four-wheel-drive vehicle.
"I love driving in this," Norducci said.
Though local roads were mostly fine, there were some issues on the highways.
Along Interstate 93, electronic signs urged drivers to keep speeds below 45 mph, in hopes of avoiding another major pileup. A week earlier, 59 vehicles crashed on I-93 in Derry during another storm, sending about a dozen people to the hospital.
A multicar accident closed part of I-93 in Concord, and another crash involving about a dozen cars in Londonderry between exits 4 and 5 had traffic backed up, officials said.