4 moms get special Mother's Day early as contest winners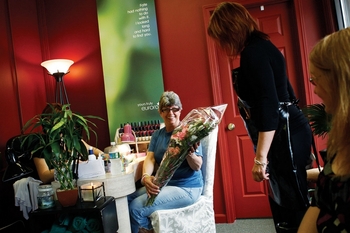 While mothers everywhere are being celebrated today, four Granite State moms received their Mother's Day gifts a day early. More than two dozen downtown businesses came together Saturday to treat four mothers to a day of pampering as prizes for the Mother's Day Makeover contest. The women won the contest based on essays or letters submitted on their behalf by a loved one, saying why the woman in their life was so important.
Out of more than 60 letters submitted, organizers had to choose just four: grand-prize winner Gloria Letourneau, of Manchester; first-prize winner Diane Green, of Derry; second-prize winner Erin Mansperger, of Nashua, and third-prize winner Karen Temple, of Amherst.
Letourneau, the top prizewinner, got the star treatment inside Salon Apryl on Saturday. She received a new outfit from Fresh of Nashua, a facial, manicure, pedicure, dinner at Michael Timothy's Urban Bistro and more.
"I never expected it," Letourneau said. "I think this is overwhelming."
Letourneau, of Manchester, is a mother of three – Anna, 33; Phillip, 32, and Scott, 30 – and a grandmother of six – Alanis, 12; Michael, 11; Phillip, 6; Destinee, 5; Alexis, 11, and Christian, 14.
Christian and Alexis live with their grandmother and took it upon themselves to submit letters for the contest.
While getting her manicure, Letourneau said she will never get comfortable with people giving her all this attention, but there is one thing that stands out the most about the contest.
"That my grandchildren respect me that much to do this, not the prizes," she said.
April Bohaker, owner of Salon Apryl and creator of the contest, said it was a big dream for her to do a contest like this. Since opening the salon five years ago, she has been looking for the right time to approach downtown businesses to participate in such an event.
"All the merchants were on board. I was amazed," she said.
Bohaker said she couldn't have organized the contest without the help of Kate Parise, salon coordinator, and is looking forward to next year.
"It turned out awesome, very successful in my eye," she said.
Each winner was also given fresh flowers from Fortin Gage, 86 W. Pearl St., and a gift basket filled with certificates from the stores that participated.
"I felt like I was a proud parent," said Temple, third-prize winner, about daughter Ariel, 18, who submitted a letter.
Temple, mother of Ariel and Charlene, 22, has been cleaning houses for 35 years and appreciates the fact that her daughters thought she deserved such a prize. Even if she didn't win the grand prize, she is more than happy just to be a mom.
"My girls, I love more than anything," she said. "People don't know what it's like to be mom until they are one. It's the best thing and feeling."
Busy stay-at-home mom Mansperger, second-prize winner, has her hands full with not one, but two sets of twins.
"Each day is a different adventure," she said. "Some days are good; some days are bad."
A few months after Mansperger had her first set of twins, 5-year-olds Quinn and Ava, in 2003, she was diagnosed with multiple sclerosis. Now with the addition of 2-year-olds Allie and Paige, Mansperger gets tired like any other mother with multiples but "clocks out" at 7 p.m. when the children get ready for bed.
As a thank-you to his wife, Mansperger's husband, Rob, sat down with their four kids and penned the letter that got his wife chosen.
"They do have a wonderful mom," he said. "And they're wonderful kids."
Green, first-prize winner, is a resident of Derry and is no stranger to Nashua.
For one year she took her son, MacKenzie, 17, to DaVita Nashua Dialysis three days a week after he had kidney failure. Green, who also had kidney failure, and her son both received a kidney transplant; he on Memorial Day and she in September.
Green would not go through with her transplant – even though her brother, James Leach, donated his – until her son, who was on the waiting list, got a donor so that she was in good enough condition to bring him to his dialysis treatments.
"I knew I had to get him better," she said. "It sounds like I'm a hero, but most mothers would do it."
Green's daughter Taylor, 19, was the one who submitted the letter.
Green plans to take her daughter out to spend some of the gift certificates she won, because she said her daughter has had the "back seat" for the last couple of years.
"I can come to Nashua for something good," she said, adding that she and MacKenzie are in good health. As for being a mom, "It's the best job in the world. Most challenging, most rewarding."
For more information on what these four deserving mothers received, visit www.greatamerican downtown.org/mothers.