4 finalists in Start-up Challenge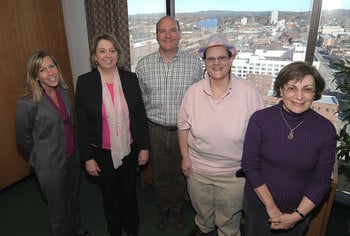 Four businesses have been selected as finalists for the second annual New Hampshire Start-up Challenge, a business plan competition sponsored by Public Service of New Hampshire in partnership with the Manchester Young Professionals Network and Stonyfield Farm Yogurt.This year's finalists are: House Heritage, a real estate marketing service; the Manchester Food Co-op, a downtown Manchester grocery store; Play@Work, a hybrid remote executive office-day care center; and Smart Energy Frontier, developer of a "smart" energy-efficiency system for residential use.The winner receives a $25,000 cash award and in-kind support and services from New Hampshire businesses, all designed to help the firm on its "path toward the creation of value, sustainable growth, and profitability.""What makes this challenge so unique is its connection to the state," said David Allen, chair of the Challenge, a board member of MYPN and an attorney with the law firm Sheehan Phinney Bass + Green in Manchester."They all come from different walks of life. Their plans all address different but very real problems in the state."Finalists receive scholarships to the Stonyfield Farm Entrepreneurial Institute, held this year March 25-26 at Grappone Center in Concord, as well as additional help with their start-up plans.Final business plans from the four participating businesses will be due May 15, when two will be chosen to present their plans to a panel of judges.
House HeritageIt's long been known that homes are an expression of the owner's identity as well as place. However, Renee Robertie said, only so much of a home's character can be understood from an hour-long walk-through. When it comes to historical properties, there's much more of a story to tell."House Heritage tells the home's story," she said of her business concept. "As a real estate marketing service, it helps to sell older homes by giving more information to prospective buyers."With a focus on homes 100 years old and older, House Heritage certainly encompasses the fundamentals, said Robertie, but also includes a Web site and companion booklet with photos of the home in all seasons, detailed information about the home's history, notable previous owners, architect, and where all this information fits in to the home's community, both today and years ago.Home Heritage also provides a marketing advantage against other historic homes for sale — a reason Robertie said her concept deserves to chosen as the winner of the Challenge."If you're selling the home in the fall, it can be hard to envision what the gardens look like in full bloom or what the house looks like decorated for the holidays," she said. "It gives homeowners and Realtors an edge in the market to bring in the perspective of the community."Robertie said, if selected, she would use the $25,000 for initial costs, such as an even more robust Web site, and start-up legal costs."House Heritage goes beyond the nuts and bolts," she said. "It helps prospective buyers build an emotional attachment to the home."
Manchester Food Co-opVeronica Kammerman called downtown Manchester "a desert" as far as grocery stores were concerned."There's no place for people to walk to," she said, let alone have an alternative to large regional or national chain stores.She said she hopes a Manchester Food Co-op will change that."Food co-ops typically buy from local producers, and often organic ones," said Kammerman, former dean's assistant to the School of Community Economic Development at Southern New Hampshire University. "Our co-op will go beyond food with health outreach and educational components."A co-op is a grocery store concept supported financially, in part, by membership shares purchased by households. Money from the membership shares, as well as membership loans, grants and other funding sources, pay for a store, the food and all that it takes to run such an enterprise – from pencils to pears to computers.The concept has already started to take off.Kammerman said there is a steering committee that meets regularly, and some 1,500 households in southern New Hampshire have already indicated they be interested in being paying members.Kammerman said the co-op would use the $25,000 as seed start-up money, not the least of which would be for a feasibility study and financial software and computers.She said the Manchester Food Co-op deserves to be the $25,000 challenge winner because it's offering "better food choices for Manchester. But more than that, it's about building community. Food is something we all do. It's a common denominator."
Play@Work"Playing house" is not as simple today as it was when childhood friends Katie Cote and Melissa Gardner were little girls.Today, Cote and Gardner work from home when they can to be with their own growing families as much as possible, but that's not always feasible."Technology allows us to log in to our company's networks with our little ones right by our sides," said Cote. "But there are always several hours during the day when we need to be available for conference calls or have our full attention on a project or client issue."Cote said Play@Work helps to solve this dilemma. A cross between an executive office and a day-care facility, she said, "It will be a place in Manchester where parents go to get work done or meet with their peers while their children enjoy a supervised playgroup in a welcoming, child-friendly atmosphere."Beyond helping telecommuting parents balance home and work life, Cote said Play@Work also will provide an opportunity to connect with other adults in similar situations.Cote and Gardner have already completed a draft of their business plan and met with financial advisers and Realtors. They have held informal focus groups, but, Cote said, the $25,000 would go a long way toward renovating a space for their first Play@Work location."Melissa and I believe Play@Work is the final piece that can make working from home a truly viable solution for working parents and the businesses with work-from-home programs," said Cote. "We also believe knowing a service like Play@Work exists might give more businesses the confidence to let their employees work from home."
Smart Energy FrontierHollis-resident Christian Heiter thought there had to be a better way to heat homes after he lost his during the winter storms of 2008."I had something in the back of my mind for years on how to replace heating controls to make them more energy efficient," said Heiter, a systems engineer and chair of Hollis' energy efficiency committee. "There should be a cost-effective system that is fairly easy to use, to help homeowners take simple steps to reduce their energy use, and therefore reduce their energy costs and carbon footprint."Smart Energy Frontier is attempting to do just that by creating a "smart" home system that takes programmable thermostats a number of steps further.By sensing temperature in a room much more efficiently, including detecting if people are in the room itself, a controller will turn on or off the air conditioning or heat, said Heiter."If you're not in the room, why heat it?" he said.The "high-resolution controller," as Heiter calls it, can be programmed from a home computer or remotely if on vacation or at the office, further enabling homeowners to save money and ease the impact on the environment.Heiter said he would use the $25,000 to further develop a prototype and software enhancements.Cindy Kibbe can be reached at ckibbe@nhbr.com.