2nd dose of heavy snowfall in days slows region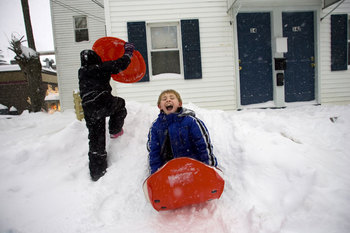 NASHUA – As snow fell prodigiously late Sunday morning, city street supervisors counted their manpower and their blessings.
"We'll take this cold snow any day over the wet and heavy stuff, or rain that freezes on the roads, Carl Gagnon said as he and other street department managers gathered in a command center set up in the Public Works garage on Riverside Street.
"When it's good and cold like this, the snow scrapes off the pavement pretty easily," added Scott Pollock, the street superintendent.
A large board in the conference room detailed which crews would be deployed where. All told, as the city began to battle the second big snowstorm of the weekend, 75 city employees would be engaged in the Herculean task of clearing streets.
Additionally, 17 subcontractors pitched in with their pickup trucks and snowplows, Pollock said.
One such freelancer, Kerry Rourke, of Hudson, prepared to go to his usual turf – "plow route No. 8" off of Amherst Street.
Rourke said he has helped the city out for six years, often called in when a storm drops three inches or more of snow. He always works the same section of the city, he said.
City crews work well with the subcontractors, Rourke said, adding that such cooperation is necessary.
"When you plow, things break down," Rourke said.
City crews were out until about 3 p.m. Saturday cleaning up after the first storm, which tapered into flurries but never really stopped, bleeding into the second storm, which began by 7 a.m.
Workers got a few hours of rest and then were back on the job between 7:30 and 8:30 a.m. Sunday, Pollock said.
Meanwhile, downtown Nashua emptied of people as the storm built, putting a crimp into anticipated holiday shopping.
At Ikebana Flowers on West Pearl Street, owner Antoinette Drouart said she hadn't had a single customer.
"Yesterday, there was some traffic, but not as much as usual," she said.
"Once the restaurant brunch time is over, I'm going to close," Drouart said.
Residents who attend church services and then go to brunches afterwards are about the only people who come downtown on a Sunday, she said.
Several doors down, the City Room restaurant had a steady flow of customers, perhaps drawing from the church-brunch crowd.
Oddly, on Saturday, when the weather was better, the restaurant had fewer customers, owner Terry Wade said.
"Yesterday, I think people just stayed home to get ready for the storm today," Wade said.
"People just wanted to get out today for a couple of hours because they knew they were going to be dumped on today," she said.
Wade did close the City Room an hour early, so her employees could get home safely, she said.
Wade said she wasn't worried about people behind in their shopping and holiday preparations because of the Dec. 18 and 19 ice storm, power outages and now a weekend of snow.
"Everybody's behind with Christmas, but you know what? They'll get it together. They always do," she said.
Things may have been quiet in downtown Nashua, but the same wasn't necessarily true on the Milford Oval later Sunday.
The oval during Sunday night's snowstorm may have appeared still, but a closer look revealed lots of activity.
At the Pasta Loft, the bar was full with people watching football on TV.
"It's been a good turnout with the snow," Pasta Loft manager Tara Evans said. "I wouldn't close early today. People need to get out."
The snow didn't stop Dave D'Alessandro, of Amherst, from going to Pasta Loft. He comes on Sunday for the buffalo wings and the bartenders, who he describes as "warm, friendly and attentive."
At around 5 p.m., Sheila Shaw and Jorge Gagnon, both of Milford, were having drinks at Amigo's.
"We were on our way Christmas shopping and we decided to turn around because we couldn't see anything," Shaw said.
The pair were heading to T.J. Maxx and Michael's on Route 101A, but had to turn around.
The China Golden reported brisk sales even though the restaurant appeared empty, Coco Zhang said. She said they had three busy drivers delivering orders Sunday night because many customers didn't want to go out.
Eileen Cavellero, owner of the Garden Party Floral Boutique, was still working on making arrangements for next week.
Earlier in the day, she had customers despite the conditions. Sunday morning, she had to go to Boston to pick up some orders.
"I drove down in the snow and back up in the snow," she said.
Bill Walker was closing Karen's Kollectibles at around 5 p.m. and said despite the poor weather, the shop kept regular hours.
"We toughed it out," he said.