2014 Business Excellence Winner: Matthew McClay of Pleasant Acres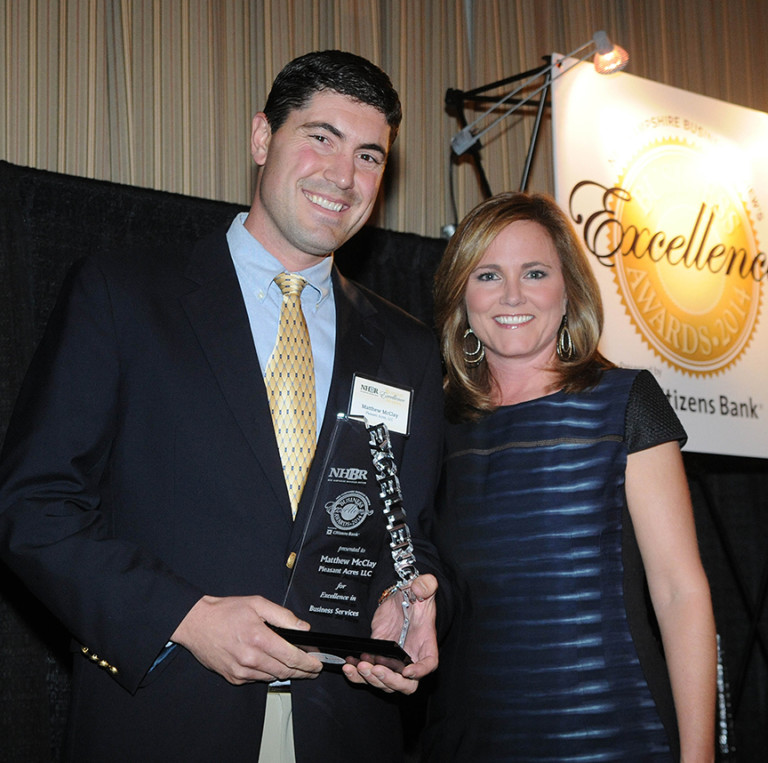 Nominated by: Kimberly Russell of Pleasant Acres
To think, 13 years ago Matthew started Pleasant Acres all by himself, with just a truck, a lawn mower and one customer.
He was a student at Colby-Sawyer College, making some extra money from lawn-mowing gigs.
When it came time for Matthew to get an internship, he instead convinced the college to allow him to form his own business. No business graduate had done that before.
Other than a six-month detour working as a salesman straight out of college, Matthew has worked tirelessly to grow Pleasant Acres into a reliable company that provides peace of mind for the homeowners and second homeowners in New London and Lake Sunapee.
His business has now grown to nine trucks and 13 employees mowing 160 lawns, plowing 250 driveways and managing 25 properties.
Matthew says his philosophy is "staying until the job is done right."
In addition to being a great boss, devoted husband and father to two small girls, Matthew also is a part-time police officer and New London Fire Department volunteer – holding the position of captain for an extended period of time.
He's also involved with the Lake Sunapee Region Chamber of Commerce, most recently assisting fundraisers like New London Hospital Days. And each winter, Pleasant Acres sponsors the Ski Joring Competition held on the New London Town Green.
Matthew's nominator, his office manager Kimberly, says Matthew is "committed to fostering a culture of excellence."
Returning to work after taking care of her young son, he spent countless hours of on the job training as she learned Microsoft Office Manager and other computer programs.
According to Kimberly, Matthew "symbolizes the old Yankee work ethic, the commitment to the community and the generosity of spirit that sums up New Hampshire."
Well said Kimberly, and congrats Matthew.