2008 Preview: Sluggish housing market making economists jittery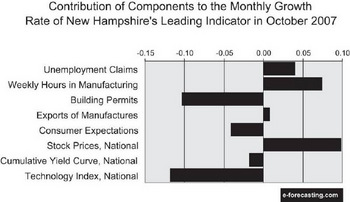 You just had the wind knocked out of you, and you didn't expect to be in the same shape as you were before you were hit. Yet most of the vital signs seem to indicate that you are doing fine. Still, you have that impending sense of gloom that the injury might be deeper than is apparent. There are warning signs, aches that you could live with in the short term, but more worrisome are indications of long-term future troubles. Is it psychological, or is it real?
That, in a nutshell, is what experts, and even businesspeople, are asking about the state of the New Hampshire economy.
The injury – the scar across the economic landscape – is the deepening housing slump, sparked by the subprime loan crisis. You would think that when house foreclosures double, when housing starts are down 22 percent, when there is a year worth of inventory on the market — without even including the glut of foreclosures to come — that there is something seriously wrong with the economy. Combine that with the continual surge in energy and health-care costs, and some other troubling statistics, and that's why most economists are concerned.
"I feel an overall anxiety," said Russ Thibeault, president of Applied Economics Research in Laconia. "I have an unsettled feeling about the future — a lot more warning bells then celebratory triumphs."
Thibeault isn't the only one. The Business and Industry Association recently surveyed some 300 businesses in New Hampshire. Some 38 percent expected things to get worse next year — the most pessimistic outlook in the last four years. Only 15 percent expected to hire more workers, compared to 21 percent the previous year. And a quarter expected their revenues to decrease, compared to 11 percent the previous year.
On top of that, more people are declaring bankruptcy, and fewer people are starting businesses.
Despite all this, the state gained more than 10,000 jobs. In October, the unemployment rate was only 3.2 percent, a third of a point lower than last year. Tourism is doing well. Rooms and meal tax revenue is on the rise. Commercial real estate and construction are at a healthy pace. Imports are still strong. And while it's too early to tell, retail seems to be holding its own.
"So far, this hasn't had much of an impact on our labor force as it should, and that's a little surprising," said Peter Bartlett, an economist with the state Department of Employment Security.
Real estate
One thing is clear from the Leading Economic Indicators put together by e-forecasting.com for New Hampshire Business Review, is that economic growth was relatively flat for the most part in 2007, after a slight decline in 2006. The economy hasn't actually dipped, as it did in the last two recessions, but the concern is that it will.
"Things are going slower than they were, and that's what's got peopled worried," said Dennis Delay, a Manchester-based economist and deputy director of the Center for Public Policy Studies in Concord.
Yet can the economy slog through the housing crisis without getting dragged down, or are we heading for a full recession? Nobody really knows for sure, but to some degree this happened before during the last recession — only in reverse.
Economists at the time were worried about how the economy would perform after the high-tech bubble burst shortly after the millennium ended – a crash punctuated by the terrorist tack of September 11th. Yes, we were technically in a recession, but it was a particularly mild one, thanks primarily to the continued health (at the time) of the housing market.
From 1999 to 2003, while the rest of the economy was in trouble, the average house in New Hampshire gained nearly $100,000 in value. With that kind of new equity in their pockets, consumers felt they could continue to spend, often borrowing upon that equity. Everybody could get in on the equity feeding frenzy, even those who never could get credit in the past.
Subprime loans helped feed this frenzy. Adjustable loans with teaser rates made to those with a questionable credit history were bundled and sold on the market to speculators so the mortgage company originating the loan didn't have to worry about it being paid back. These loans – which account for more than 12 percent of all loans in the state — allowed people to buy more house than they could afford and continue to hang on to it by refinancing as their equity continued to climb.
But when the housing market finally slowed, the game was up. When the teaser rates ended, the mortgage payments were no longer affordable. That is one of the main reasons that lenders were foreclosing on 200 homes per month in October, compared to two years ago, when the number was 50.
You might argue that the housing slowdown caused the subprime crash, but the crash certainly turned that slowdown into a serious slump.
There are now more than 10,000 residential units in the market, more than a year's supply. And this is beginning to affect pricing. Average home prices actually declined from $310,000 to $306,000 from 2005 to 2006 (and seems to be holding steady in 2007) — the first decline in years. In 1998, for instance, the average house was selling for $149,000 — an average increase of more than 11 percent a year, even given the recent dip.
"That's a pretty substantial rate of return and one that validates our contention that traditional homeownership is a good investment," said Dave Cummings, a spokesman for the New Hampshire Association of Realtors.
But no matter how good an investment homes are in the long run, real estate brokers right now are going through a frustrating time.
Buyers who not too long ago were scrambling to make an offer the moment they saw a home they liked "don't feel the pressure to act quickly. They are being much more selective," said Joe Hunkins, a principal of Hunkins Real Estate in Greenland. Buyers get especially finicky if the price goes over $400,000, he said.
A second showing once meant a sale. Now it is often a prelude to a third showing or a forth.
Reading about the "doom and gloom" in the market, buyers think that "sellers are desperate, and they can throw any figure out," Hunkins said.
New construction
This sluggishness is particularly acute in new construction. Building permits from August to October were some 22.5 percent below their number during the same period a year ago, and the decline has been even a little steeper earlier this year, according to the New Hampshire Home Builders and Remodelers Association.
But that's just permits, not sales, as some builders keep filing permits in the hope that things will turn around. De Zielinski, vice president of Ashwood Development Companies in Nashua, said that her business is off by 60 percent compared to the boom just a few years ago.
"The market is inundated with new construction," she said.
The slowest-selling homes are those aimed at the middle class – between $360,000 to about $440,000. But, while "nothing is flying out the door," the new-home buyer is still seeing mortgage as preferable to rent, she said.
And, thanks to an influx of people brought in by high-paying high-tech jobs that are still in abundance, the high-end homes are also still selling. But those who are moving up to their second or third mortgage are hesitating — they don't know what equity they can get on their existing home.
"They re going to 'wait until spring,' 'wait until prices go down,' 'wait until I sell my house,'" said Zielinski.
And economists like Delay, are waiting as well to see "how this is going to spread to the broader economy."
As for construction in general, contracts so far this year are down some 17 percent, but that could reflect the residential slowdown. Commercial contractors, however, haven't noticed much of a falloff, said Gary Abbott, executive vice president of Associated General Contractors, thanks to the continued demand for schools, health facilities and office space.
"The work seems pretty steady," said Abbott. "There haven't been as many projects as in the past. But they are definitely out there."
And a recently passed toll increase means that there is more money for road construction – and there may be even more, especially if Gov. John Lynch's recommendation of $114 million more in bonding to accelerate the 10-year highway plan passes the Legislature next session.
Commercial real estate has retained its value, at least when it comes to buying and selling. But here is another short-term warning signal: in terms of leasing, the market is soft, according to Jim DeStefano, a principal at Grubb & Ellis/Coldstream Real Estate Advisors.
The vacancy rate is 12 percent statewide, he said. While it's still strong in the Seacoast, it approaches 25 percent in Nashua and Salem. Manchester is doing better, with the Millyard becoming "a destination location," he said, but this is offset by vacancies along South River Road in Bedford, where the vacancy rate has crept up, thanks to all those mortgage lenders and residential Realtors cutting back on space.
Also, multifamily development is not as attractive. As home prices drop, and foreclosures become available, more people are able to leave rental housing, increasing the vacancy rate a bit there as well.
Still, the rise in foreclosures hasn't affected commercial properties. Large industrial space doesn't go begging. Instead, it is being transformed into start-up incubator space and apartments. Or owners are so far able to hold on to the properties longer until they are leased.
"There is much less debt on those properties than in the last recession," said DeStefano. "Those who are waiting for foreclosures are still waiting. There hasn't been a rash of them yet, and there might not be."
Ripple effects
One reason space might be harder to lease, is that there are fewer businesses to lease to. For the first time since 2000, there will actually be a slight decline in new business filings. And there is a chance that businesses also are seeing their share of an increase in bankruptcies.
Bankruptcies dropped sharply when a new law making it harder to file went into effect November of 2005, but they have climbed steadily since, and they averaged about 250 a month this year, a hundred more than 2006.
There also have been signs that the housing slump is having an effect on other parts of the economy. New car sales titles were just under 100,000 for the first 10 months of 2007, a 16 percent drop from the same time in 2006, and things have been are even worse as the snow hits the ground, said Dan McLeod, the president of the New Hampshire Auto Dealers Association.
"It's very difficult this time of year even during the good times. Typically sales are down during the winter months, and right now they are way down," he said.
The housing crunch also has packed a wallop in wood industry. Fewer homes built translate into a softer market for lumber.
"I talked to one landowner who is getting one-third less for his hard maple than a year ago," said Jasen Stock, executive director of the Timberland Association. "The mill can't afford to pay the stumpage."
The turndown couldn't have come at a worse time, with the paper mills shut down or shutting down, there also is less of a market for scrap wood, though that may be offset by the demand for wood-fired energy plants that are coming on line.
But most distressing, said Stock, is the price of fuel.
"The cost of diesel is so high that some owners can't afford to get the logs out of the woods for the price they are getting," said stock.
On the other hand, key sectors of the economy are going strong. The credit crunch that affected Wall Street has yet to affect Main Street, said Jerry Little, president of the New Hampshire Bankers association.
"Banks are still out there aggressively and actively competing to make home mortgages and small-business loans," Little said.
That leads to one reassuring answer to the BIA survey. While companies expect to cut back on workers next year, they still plan to put money into capital projects.
The weak dollar has helped exports, which have increased slightly, as well as attracted foreign travelers, resulting in a strong summer. Rooms and meals tax revenue for the first 10 months of the year totaled $179 million, a $5 million increase from the same time the previous year. In addition, an extra-long foliage season and early snow this winter is making up for the lack of snow last winter.
And people are still eating out. Nationally, spending on restaurants has gone 4.4 percent, and, at least anecdotally, New Hampshire seems to reflect that trend, said Michelline Dufort, president of the New Hampshire Lodging and Restaurant Association.
"The second half of this year is very, very good. What I've been hearing is very encouraging," she said.
And the snow seems to have brought out the shoppers a bit early as well. A winter surge at the Settler's Green Outlet Village in Conway, for instance, has made up for a lackluster first half.
"We are up 12 to 13 percent," said Dot Seybold, general manager. "I'm very, very happy."
Of course, retailers won't be completely happy until the end of the Christmas season, when they can figure out if all the deep discounting was worth it, and if the bodies in the stores translate into enough dollars to make up for the doldrums that they've been experiencing the rest of the year.
As economist Thibeault said, "I'm cautiously pessimistic. I'm hoping for the best, but I'm seeing a lot of signs of trouble."