2-car crash on Broad Street is probed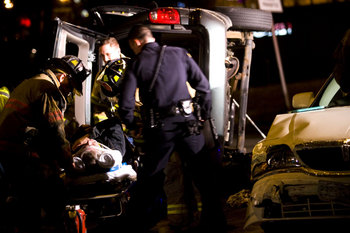 NASHUA – Police are investigating a two-car accident on Broad Street that sent one man to the hospital Monday night.
Around 7:30 p.m., a white 2001 Lincoln driven by Michael Reyes, 26, of Hudson, and a Dodge minivan driven by Kevin Gaudette, 58, of Nashua, collided. The minivan was turning left to head south on the F.E. Everett Turnpike and the Lincoln was going straight through the intersection of Broad Street and the onramp, according to Nashua police officer Joshua Albert.
Both drivers said they had green lights, Albert said, adding he would be talking to witnesses to determine what happened.
The minivan was lying on the driver's side as Nashua firefighters and Rockingham Ambulance workers pulled Gaudette out and took him by ambulance to a local hospital with nonlife-threatening injuries.
The Lincoln appeared to have damage to the front passenger side. The cars were blocking the ramp onto the turnpike for drivers turning left from Broad Street. Traffic heading east on the overpass was down to one lane.