18 articles facing Hudson voters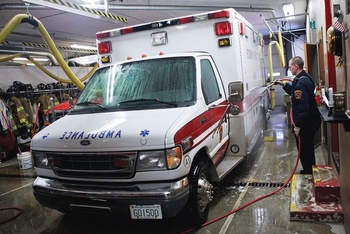 HUDSON – Residents will get to weigh in on a total of 18 warrant articles, half of which deal with economic issues like salaries and benefits for town employees and replacement of an ambulance and a "drain suction" truck, at Saturday's town Deliberative Session at the Community Center on Lions Avenue.
At the session, which starts at 9 a.m., registered voters will be given a presentation of each article, beginning with several proposed zoning amendments, followed by the "Selectmen's articles," which involve raises and other expenditures.
The complete Deliberative Session agenda, including details on each warrant article, can be viewed by going to www.ci.hudson.nh.us and clicking on the links on the "Public Notice" panels.
Voters will be able to discuss each item on the warrant, and then either approve or amend it. The version of the warrant agreed upon at the Deliberative Session will be voted on at the March 10 general election.
>>Town Meeting '09<< Topping the spending proposals is Article 12, which asks voters to consider the proposed $26,935,059 operating budget for fiscal year 2010. The figure doesn't include salary and benefit increases, which are contained in separate warrant articles that will be voted on separately. Including those articles, the budget totals $27,467,435. If approved, the budget would raise the town portion of residents' tax bill to $4.84 per $1,000 of assessed valuation, an increase of roughly 3.8 percent over the current rate of $4.66. For a house assessed at $250,000, for example, the increase would add $45 to the annual tax bill. The current overall tax rate of $15.96 per $1,000 is broken down four ways: town, $4.66; school, $7.99; state, $2.28; and county, $1.03. The default budget, which would go into effect by law if the operating budget is rejected by voters, is $26,886,556. At its public hearing in January, the budget committee voted 8-3 to recommend passage of the budget. Members opposing the recommendation are Steve Hellwig, Jon Maltz and John Drabinowicz. The budget committee also supported the other articles calling for personnel raises or other town expenditures. It was unanimous in recommending three articles: Article 13, which calls for roughly $23,000 for a part-time senior services director; Article 14, which asks for the purchase of a replacement ambulance; and Article 16, which calls for an appropriation of $50,000 to start the Senior Center Capital Reserve Fund. The closest vote - 6-4 - came on Article 17, which calls for $25,000 to begin studying land for a possible future fire station.