150 take part in Tae Kwan Do tourney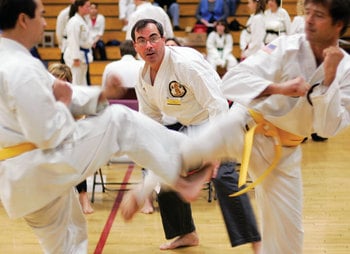 HUDSON – About 150 people competed at the 26th annual Tae Kwon Do Karate Club New England Invitational Championships at Alvirne High School on Saturday.
Grand champions were named in five black belt divisions:
Adult Men's: Carl Girouard, TKDKC.
Adult Women's: Sonya Chen, TKDKC.
Senior Men's: Sandy Bucknam, TKDKC.
Senior Women's: Sue Peters, TKDKC.
Junior: Cassie Godinez, Sidekick Tae Kwon Do.
The team championship was won by a team from the Londonderry class of the TKDKC: Bucknam, a fourth-degree black belt who instructs the class; Erik Rowell, a sixth-grade green belt; and Jacob MacFadgen, an eighth-grade yellow belt.
Here are the winners in other back belt divisions:
Weapons: Bucknam
Creative kata (forms): Eileen Fournier, TKDKC.
Men's kata: Girouard.
Women's kata: Chen.
Men's breaking: Robert Andreo, TKDKC.
Women's breaking: Peters.
Senior men's sparring: Bucknam.
Senior women's sparring: Dee Furciniti, TKDKC.
Adult men's sparring: Ryan Amato, TKDKC.
Adult women's sparring: Godinez.