$100m medical -commercial – residential project seen at Manchester site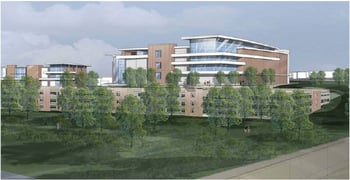 In a project with wide-ranging economic development implications, the corporate owner of Elliot Hospital has unveiled a $100 million plan that promises to transform the former Jac Pac Foods site in Manchester into a multi-use commercial development.
The proposal – which Elliot Health System officials said would be one of the largest commercial construction projects in city history – will include an urgent-care facility, along with retail stores and an apartment building. Four acres on the parcel will be made into a park and donated to the city.
The project – which will be built in conjunction with Manchester developer Richard Anagnost of the Anagnost Companies – will stand on a site that lies between the Merrimack River and Queen City Avenue. The property was acquired by the city in 2004 for $3.5 million from Tyson Foods, which owned Jac Pac before shutting it down earlier that year. Anagnost reached a deal earlier this year with the city to purchase the property for $3.6 million.
The key to the development – which will be called the Elliot at River's Edge — will be Elliot Hospital's 236,000-square-foot, four-story ambulatory-care facility.
Doug Dean, president and chief executive of Elliot Health System, said the development puts his hospital "on the forefront of a changing health-care industry" because it responds to "a new focus on preventive care, and reaching people before they develop acute health problems."
He said the proposed facility "is a pinnacle piece of this health-care evolution, which will serve to further improve the delivery of the care we provide throughout southern New Hampshire."
According to Dean, the new building will offer such services as pain management, ultrasound imaging, physical rehabilitation, occupational medicine, sleep diagnostics, outpatient cardiac care and breast health care. There will be no inpatient beds at the facility.
It's also hoped that the new facility will alleviate demand at the hospital's overburdened emergency room. Elliot's ER has seen some 60,000 visits this year – an increase of 33 percent up from two years ago. Many of those patients were not transported by ambulance and would be better served at the facility being proposed, said Dean.
The rest of the project includes:
• A four-story medical office building
• A three-story apartment complex with between 35 and 50 units
• A 13,000-square-foot retail store
The hospital has to bring the ambulatory-care proposal before the state Certificate of Need Board, a process that Dean said should be completed in May 2008.
In addition, the project must undergo site plan review and public hearings at the municipal level. Those hearings should take place this winter, Anagnost said, with a goal of breaking ground in June and the medical building opening in January 2010.